This page will help you have a great visit to The WayOut Club
Hello
Hi my name is Vicky Lee and I started the club in 1993.
I have been at the club almost every Saturday ever since and I love to meet people.
SO …. Is this your first time? Boy, Girl or Trans You WILL love it. Every one is friendly, we all remember our own first time out.
The best way to visit is come on public transport stay in the Tower Hill Travelodge right next door change and make up in comfort – very short walk to our door overseen by our security – don't worry about drink driving and have a great night … best booked on line in advance
When you arrive please say hello to me xxx
Vicky Lee.
Plan your visit
My main tip is plan your visit well …
Location – Do you know where we are?
Date – Do you know what date you are coming?
Going forward post covid
FOR NOW – Second Sat and Last Sat – EACH MONTH
OUR FUTURE DATES ARE AS FOLLOWS …
2021

Sat 11th Dec … Xmas Party with Miss Evie Lake
2022
8th January … New Years Party with Miss Vivienne Lynsey
29th January … with Vicki Vivacious
12th February
26th February
12th March
26th March
9th April
30th April
14th May
28th May
11th June
25th June
9th July
30th July
13th August
27th August
10th September
24th September
8th October
29th October
12th November
26th November
10th December
That is the SECOND Saturday and the LAST Saturday of every month
Entry Policies – dress code, security, cost?
How to get here – Do you know how are you getting here?
Staying nearby – Are you going to stay overnight nearby?
What to wear – Do you know what you are going to wear?
Help dressing – Do you know where you are getting dressed?
What is the Club like – What to expect
Getting Home – Do you know how are you getting home again?
Access Issues – Do you have mobility problems?
What is the Club like – what can I expect?
What is the venue like – paint a picture?
Diversity – Every age, Race, Culture, Sexuality and GENDER?
Guys and Girls – (as well as) Inbetweenies?
Music – with resident DJs
Our Shows – a unique show EVERY Saturday
Our Events – annual events throughout the year
The WayOut Club History – Award winning, transgender nightclub
You will find the answer to all these questions and more here …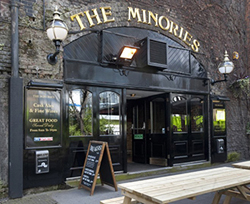 Location
The address is The Minories 64–73 Minories, London, EC3N 1JL 
Our venue is under the railway arches next to DLR Gateway station. It has a garden on one side next to the Travelodge. Enter through the garden – our entrance is on the left with our WayOut flag outside.
We sometimes use another venue near by – if this happens all the details will be in our diary …
The WayOut Club is NOT in the Congestion Charge zone
WayOut at The Minories (and when we are occasionally at The Duke of Somerset) and the multi-storey car park next to us – is JUST outside the Congestion Zone …. But if you cross into the Congestion Charging Zone you need to pay a £15 daily charge 07:00-22:00, every day, except Christmas Day (25 December).

The WayOut Club IS in the ULEZ Ultra Low Emission Zone
If your car is petrol or meets ULEZ standards THERE IS NO CHARGE
BUT For many older diesel cars – If you DO go inside the zone there is a charge of £12.50 … 24/7 …
so do check your registration number on the ELEZ site to see if it applies to you
https://tfl.gov.uk/modes/driving/check-your-vehicle/
NOTE … If you are caught on camera in ULEZ Zone and your car is NOT EXEMPT
Once before midnight and once after midnight you will be charged TWICE total £25
The ULEZ Zone has now been extended right out to the South and North Circular Roads…
Might be time to change your car ULEZ coming to a city near YOU
Entry Policies –
Entry price from 10pm – 11pm …………… £10.00 anytime – anyone
£2 per item in the cloakroom
We have a card reader
There is no dress code
There is no membership,
We DO have a few rules CLICK HERE for our full Entry Policies
including … Security, Dress code, Photographs,
Date of your visit –
Any Saturday is good our numbers are very steady. But we have a different show or event every Saturday and you will find our specifically what is happening – in our diary
CLICK HERE for our 'Diary'
How to get here –
By Car –
There is always plenty of FREE parking in the area after 11am Saturday and all day Sunday. It is free to park on single yellow lines or the parking bays in the area around the club. WARNING: you will still get a ticket even after midnight if you park in a disabled bay, on a double yellow line, across a dropped kerb, with a wheel on the pavement, or if you "might" cause an obstruction by parking on both sides of narrow roads with single lines both sides. Watch out for temporary suspension of parking bays from time to time.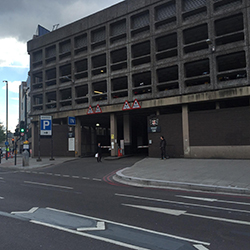 PLEASE NOTE …
If you prefer using a secure car park in the area. There IS a multi storey car park right next door at
1 shorter Street London E18LP
Currently the cost for Saturday 21:00 to 3:30 is less than  £10.00
If you walk out of the car park exit (the way cars exit) our venue, The Minories, is right next door on the right. Go past the entrance, turn right and walk under the bridge and right again, walk around our garden and enter through the garden next to the Travelodge.
CLICK HERE to check details of the City of London multi storey car park
By Taxi –
We no longer have a dispatcher at our door as everyone is now using apps and phone numbers – so prepare yourself before leaving the club.
Our reception can call Diane Cars for you…
Diane Cars Local … 0207 790 0333
have been our preferred company for over 15 years.
London Black Cab drivers are the best in the world and have 'seen it all'. You are guaranteed a fuss free journey in a black cab to the venue. Our venue is located in a smart, area of London's financial district. Right next to Tower Hill Travelodge
Taxis can drop you right outside the door. (Next to the Travelodge)
They pass our club all the time and are available to "hail" if they have their yellow light on.. 0207 736 9958 or 0203 637 5880
You might also try the following companies …
Diane Cars Local … 0207 790 0333
The London (Black) Cab Company Ltd … 07885 349 994
TAXIcode … 03337729737
Freedom Cars Soho … 0207 734 1313
Whitechapel Cabs Local … 0207 402 756
Express Cars Finsbury… 020 7272 1717
Hyde Park Cars Central … 0207 244 6555 (luxury cars)
Uber London offers very good rates  https://www.uber.com/cities/london
By Tube or Train –
Tower Hill (2 minutes walk – Circle & District lines), from the station locate  The Tower Of London and keep that on your right, follow the path to the road – when you come to the road at the junction – turn left into Minories and continue under the railway bridge, THE MINORIES is on your left – cross at the crossing and enter through the garden at the rear.
Aldgate (4 minutes walk – Circle & Metropolitan lines) from the station turn tight to traffic light crossing cross the road into the road called 'Minories'. After the Motel One, Indigo and then the Chamberlain hotels, cross the road Crosswall at the traffic lights.
Then you will see more traffic lights and crossing THE MINORIES diagonally is left in the centre island under the railway bridge. Cross at the crossing and enter through the garden in front of you.
Tower Gateway DLR, (2 minutes walk), from the station turn right into Minories and continue under the railway bridge, THE MINORIES is on your right enter through the garden at the rear. Train services generally finish at 11.30pm
Trains near both venues
Liverpool Street, (10 minutes walk)
Fenchurch Street, (8  minutes walk)
London Bridge, (10 minutes walk)
By Bus
The WayOut Club is only a short walk from the bus terminal just off the Aldgate High Street and Minories across the road from Aldgate tube station. There is one stand at the bus station which is the terminus for services London Bus routes 40, 67, 115, 254 and N253.
Night buses also terminate and shuttle to and from this terminus to many parts of London
Stay nearby –
Save cab fees – You could arrive by public transport or if you drive parking is free in the area midday Sat and all day Sunday.
Save dressing costs / problems –  get ready at your hotel – Even try a change later in the evening.
No drinking and driving problems – short stagger to bed.
Lots of people including me use the many hotels around our area within a very short walk to the club. £60 to £150 depending on  time of year. All the hotels have treated our girls with respect and there is nothing like getting ready in your own room taking that short nervous (exciting) walk to the club and then collapsing back after a great night (don't forget the baby doll nighty … )
Help Dressing
For your first visit if you are not sure what to wear – I would recommend an LBD Little Black Dress with some well chosen accessories. You will feel at home in this outfit though in truth there is NO dress code and visitors wear whatever makes them happy. That is what it is all about.
I am sorry our venue has not got changing space – you can use the ladies toilets to change and do make up after 12:00 (the public share the toilets until that time). If you wear your underwear under your male clothes that saves a lot of time and hopping round on one foot.
The best way to visit is come on public transport stay in the Tower Hill Travelodge right next door change and make-up in comfort – very short walk to our door overseen by our security – don't worry about drink driving and have a great night … best booked on line in advance
There are a few very good 'Dressing services' near the club who can help you with everything you need or just a confident smile to help you make your visit.
Getting Home
Late at night cabs are the ONLY safe way to travel – specially for a girl. See above  taxi numbers. Always agree the price before you leave. Prices are rarely less than £20 (the £100 room all of a sudden may be more attractive).
Accessibility
I know that accessibility is poor in most UK venues and ours are no better than average. My own nephew Jamie uses a heavy electric wheelchair and loves to come to WayOut. As a 'Stand up Comedian' Jamie has (reluctantly) learnt to use a lightweight wheelchair and assistants to get him into some of the venues he wants to work in.
I am VERY SORRY our accessibility is just RUBBISH I know this is not good – but not hopeless. Our venue The Minories is all on one level and is accessible from the entrance but there is a 6″ step 6ft into the building and then a second two 6″ step 10ft more into the building. We can lift a manual wheelchair and user up and down this step. The dance floor is on a lower level and is NOT accessible but can be seen clearly seen from beside the dance floor. Our shows are performed on the dance floor and wheelchair users have a good view.
The toilet areas have only got a normal size door – not extra wide.
For this reason we offer wheelchair users and a carer FREE entry.
Dont hesitate to call me to check personally.
What is the Club like – what can I expect?
The club has regular "early birds". The club steadily fills up from 9:00 and by midnight you can expect 100 to 150 (250 for special events). Our visitors include  'boys girls and inbetweenies' of  'every age, race, culture, sexuality and gender'. The club "looks" fairly balanced male to female. But the majority of the "girls" are transgendered – t-girls, cross-dressers, transsexuals, lady boys, together with their girlfriends, wives, partners. The "males' include our Trans Allies (those that accept and help us – close friends, employers, family, boyfriends and would be boyfriends, husbands) men that do cross-dress – but not in public. In the last 5 years the regular guys who come to the club have got to know each other and this has created an even more friendly club. Guys coming alone can now expect to have a good chat with like thinking guys as well as girls.
What is the venue like?
Built in 1840 as a an engine house for a cable car company, our venue The Minories is mostly rustic brick Railway arch – but homely and well fitted out. It has a full range of drinks. Drink prices are at London pub prices – cheaper than any of our previous venues!! It also has a garden with tables, chairs, umbrellas, heaters, music, screens. It has a dance floor with lights and massive screen overlooked by our 2 DJs. Our entertainment is held here at  1:00 WayOut photos and graphics runs to all the TV screens. Our venue has a secure cloakroom beside our reception where you can always chat to our reception team and get complimentary sweets. The club provides the opportunity to be entertained, dance, mix, mingle and network, or people watch with the most relaxed, most diverse crowd in the world. There are seating areas to chill and chat with out loud music. It is NOT a place to have sex. There are many local hotels and other clubs for that xxx
I know that you may be plucking up courage to take the first visit to The WayOut Club but I assure you that every Saturday there are friendly regulars including me (Your Host) Vicky Lee and my life partner Lesley, and my WayOut team, looking forward to welcoming you, and helping you, to feel at home and enjoy your night. I include in that assurance, most especially family, friends and partners.
The opportunity to visit The WayOut Club weekly since our foundation in 1993 has allowed many (1000's) to make those first steps, to develop their dress style, confidence, social skills and networks. To explore their gender and sexuality. Since 1993 the whole tranny scene has become more confident. However I can assure you that, however awesome looking, confident looking, many of our WayOut regulars may look. None ever forget their early steps and most enjoy welcoming and helping others less confident.
Some of our visitors take long breaks and then return to renew their link to the club. Others, including me, Vicky Lee, hardly ever miss a night at the club. Some, have over this time transitioned from male to full time female. Some, have found at the club partners both male and female. Some have in this time married (we have even hosted wedding receptions at the club). Many have made firm friendships meeting their new friends outside the club developing a fulfilling transgender lifestyle. Many have enjoyed the contests and opportunities to perform and some have become more regular entertainers at the club or gone on to entertain or enter other contests outside the club.
We all love to chat
Remember that for most visitors, the opportunity to openly talk about all the tranny things that interest them, rarely exists outside the club. That is why everybody loves to chat and why we  provide a quieter place to chat. Everyone in the club has an interest in transgender and that what brings us together but with people from every background and from all round the world the chat can also be very exciting. We love to meet couples. We love to meet friends and family. We love to meet the guys who (these days) are generally more confident and better informed about the scene (bless the internet). We love people that want to meet and chat with trans girls. On any week you will find 60% of our guests are Transgendered and always include (though we do not encourage labels) part time and regular TVs, Transvestites, Cross Dressers, T Girls, She Males, Lady Boys, Drag Queens and some of the most gorgeous pre and post op Transsexuals from all around the world.
Every age, Race, Culture, Sexuality and GENDER
Visitors from overseas, working in the UK, on vacation, or business trip  make a bee line to The WayOut Club. Lady boy nurses from the Philippines are regulars. Students studying photography, journalism, sociology and anthropology, often visit the club to meet our 'girls' to get help with their college projects. Researchers from television companies and film companies come to the club to meet people and research ideas for new programs. Over the years we have helped with many casting sessions and program ideas. I know from these visitors who consistently tell me, there is no other club like WayOut in the world and certainly none embracing such diversity in such a relaxed and friendly way. I will take a small amount of praise for this fact but know that it is all those that visit the club that create and preserve the amazing phenomena that is WayOut.
Guys and Girls (as well as) Inbetweenies
We always welcome respectful Guys and Girls who want to share the atmosphere of the WayOut Club. Many brave the nerves and come alone. However we especially like meeting girlfriends (boyfriends), partners wives who come with their trans friend or partner.
We have a special welcome page for Girls and Couples planning to visit WayOut
CLICK HERE to help you make the most of your visit
Many guys have a healthy interest in meeting Tgirls. WayOut is a great place to meet T-Girls as there are probably more at WayOut than any other club in the world. Many people have made good friendships at the club. (sex in the club is not allowed – get a room
CLICK HERE for local accommodation)
We have a special welcome page with Tips for Guys planning to visit WayOut
CLICK HERE to help you make the most of your visit
Music with resident DJ – Titch
Hey I'm DJ Titch aka Jamie aka Mis Fit (came and find me on facebook). I do an all nighter on the FIRST Saturday of the month (and then share 3rd and 4th with DJ Gary). I've been working at The WayOut Club for over 10 years now both DJing and performing (I also help put a lot of the shows together). I mainly play POP and DANCE through the night and I keep up to date with all the new releases, so don't be afraid to come and ask me to play your favorite tune, (If I have it I'll play it, if I don't I'll get it). But I might surprise you with a wicked dance remix version. We encourage gorgeous 'girls', (and boys), to get up and strut their stuff on the WayOut dance platforms. We have video screens playing fashion TV and videos of our past shows, events and other glam events. Over the years the club has developed its own anthems, you know the ones that make you get ya groove on. Listed below are some of the WayOut Anthems you always ask for. Kele Le Roc – My Love (Paul Mastersons remix), Tymes 4 – She Got Game (Club Mix), JSTO – I Just Wanna Dance (Wayne G club Anthem), The PussyCat Dolls – Don't Cha (Ralphi's Hot Freak 12" Vox mix)
Music with resident DJ – Gary Baldi
Hi Inbetweenies, DJ Gary Baldi here, you can look forward to an all nighter with me, on the second Saturday of the month and then a shared 3rd & 4th Saturday with DJ Titch. From me you can be sure of a little bit of this and a little bit of that and if your lucky enough, a bit of the other (music wise that is). I play a mixture of house including, funky house, electro house, tech house, remixed classics and even a sprinkle of R&B. You're guaranteed a mega dance session with all your favourites. Come and say hello, I don't bite, only if you ask me too! All requests are considered and if I don't have it, I will do my best to get it for you, after all you're the people that matter. If the dance floor is pumping then I am happy. The Wayout club is the best place to be whoever you want to be, with a diverse crowd and an electric atmosphere; you can let your hair down and have a great night without fear of being judged (and I love every minute of it). See you on the dance floor x
Our Shows – a unique show EVERY Saturday
Every Saturday we present a 20 to 30 minute show at 1am. A guest spot is available every week – If you are in town and would like to perform at the WayOut Club, contact me Vicky Lee. Whether I have performed in the shows or presented or watched these shows I have enjoyed every one of these shows.
Our Events – annual events throughout the year
Our diary has a number special events. These are some of our very best nights. They include the clubs Aniversary in April, Vicky Lee's Birthday in October. The Alternative Miss London pageant and catwalk contest. A tribute night to our co-founder Steffan Whitfield in August raising funds for cancer charities. You will find these events in our diary.
The WayOut Club – Award winning, transgender nightclub
It is no wonder then that The WayOut Club was awarded one of the first 'Sparkle' TG awards for, 'Best Transgender Club'. However what really thrilled me was when Leah True who organised the awards told me that when the voting at sparkle.org was opened that The WayOut Club leapt into the lead. I was even more thrilled to hear that the votes came, not just from the UK, but also from countries all around the world reflecting the breadth of our visitors over the years since 1993. When I am talking with those that are the most hard working, influential, role models and creative trannies I am always happy to be reminded that so many of these wonderful people took their first steps at The WayOut Club.
CLICK HERE for the full History of The WayOut Club