Going forward
FOR NOW WE ARE ONLY OPEN
Second Sat and Last Sat – EACH MONTH
Hi there to all you couples and family friends. I want you to know how VERY welcome you are. On this page my partner Lesley and I have a number of tips to help you understand your relationship with the club.
The WayOut Club is first and foremost a club for transgender people and those that respect them. There are so few places that we T-girls can go and truly feel safe and at home. There are even less places where family, friends, and partners are activly encouraged and welcomed. On this page we will be writing about the questions that partners family and friends always ask.
To read First time OUT – True Stories and testimonials like this one … scroll down


Hi Vicky, We just left the club and OMG what a fantastic night, to top it off Mr Paul O'Grady himself gave me a hug and spent a good 10 minutes talking to me about how great I'd look, etc… what a nice guy! Best night out I can remember, started off a but self conscious but once we got in it all just evaporated! Thanks so much for making tonight possible.
Hugs Fiona xx
The WayOut  club has always been a diverse club welcoming everyone. This is mainly because I always felt that in a place, with trannies only, I was doing something"wrong" with a whole lot of other people that were doing something "wrong". Some get a "buzz" out of just that "naughtiness" and good on them, but it did not make me happy. With a mixed crowd I felt "normalized". But with a truly diverse crowd I felt euphoric.
When I am in a crowd with a mixture of people who are, gay, lesbian, disabled, from different faiths and cultures – where nothing is "normal", being a tranny is just about as "strange" as everyone else. That makes me feel good about myself. However I realise that this can be a heady experience, even a disturbing experience for some one new to it. Every week there are family, friends and new couples that visit the club. I try to say hello and meet all especially each new couple and so does my partner Lesley. We realise that this might be your first time in a night club for many years let alone a crazy place like WayOut.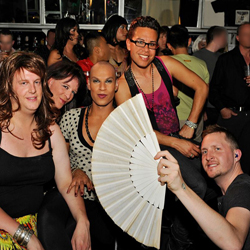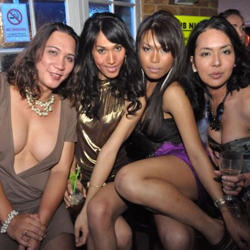 I know that for some couples, a night out at WayOut is the first visit to a nightclub for many years. WayOut is not like a wedding disco it is the kind of nightclub that the movies create. WayOut might be the first night club that you have been to that has obviously gay and lesbian people attending. A visit to the "brave new world" that is WayOut may mean putting many prejudges aside. So apart from stepping out with a partner "dressed" there is a feast of an experiences to share.
People watching is a big part of the experience that we all enjoy. At the end of the night most couples tell me how much they have enjoyed themselves. How relaxed they felt. How different it was to anywhere else they had experienced and how much they look forward to coming again. When I see them again I am always struck that the female in the partnership has "dressed up" for the night, telling me "where else can you wear clothes like this".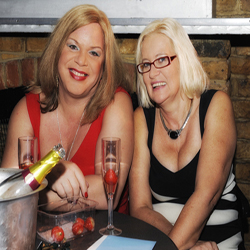 So for me (and many of our regulars it is always the most special thing at the club to meet partners, friends and family of transgender people. Every week we meet new, sisters, brothers, mums (sometimes dads), friends from work, boyfriends, girlfriends, wives and lovers. We all need support and love and sadly so few of us have that support.
Some female partners are the instigators and leaders in this new adventure thrilled with the success of their protege and the night out. But more often we understand that one or other partner has agreed in trepidation and now although surrounded by friendly faces has very mixed feelings and a hundred questions. There are always other females at the club and some like Lesley and Miss Jodie Lynn have an immense knowledge and are great to talk to. We are all happy to try to answer questions and introduce you to others. We all love to chat.
I always try to remind the couple, most especially, and in most cases the 'cross-dressing' partner, that the love and support on display from their female partner at the club is rare and wonderful. This special love deserves at the very least a small expression of thanks in usual male mode – maybe a meal out, if not flowers, chocs and much much more. More recently I have met more and more female partners that are encouraging tranny partners to step beyond their safe boundary in this case I guess it is your partner that should be rewarded maybe with jewellery or indeed a super night of passion.
Many couples that visit The WayOut Club are surprised and a little scared at the number of guys dressed as guys at the club. But that's the way we always wanted the club to be. It would be totally wrong to think that a guy at  The WayOut Club must be gay – after all what self respecting gay guy fancies a 'girl'. I would remind you both that we encourage all of our guests to "self police" the club and to inform hosts and security if a "guy guest" is annoying, rude or wont take no for an answer or is just too "touchy".  But also remember that a guy need not be looking for a liaison with a tranny or a lady boy to be a guy at The WayOut Club …
Some guys may be trannies who for one reason or another do not feel right about dressing in public (though next week they just might).
Some guys maybe supportive family or friends.
Some guys maybe a partner / boyfriend of a tranny. This is always great to find. We have many T-girls who have found long term partners at the club. The club has become a family for many.
Some guys may be a first time or regular "explorers" looking to explore the edges of society and to understand the scene for all sorts of reasons, from intellectual to creative.
Some guys just love the free and relaxed atmosphere created by the diversity that the club enjoys.
Some guys are gay and are their because they have freinds at the club and next week they may be in drag for a bit of the lime light and maybe to "pull a straight guy".
First time OUT – True Stories and Testimonials
My favourite TRUE story … A couple left the saftey of their South London home bound for the club 'with him "dressed" for the first time' as they crossed the Thames they felt at last safely off their own patch until stopped at a traffic light a lad started washing their windscreen. Expecting mocking, derision, abuse they were amazed when the youth said "on your way to The WayOut Club, give my love to Vicky Lee and the window wash is on the house"
Hi Vicky, We came along on Saturday night – our very first time 'out'. I just wanted to say 'thank you' for such a lovely, warm welcome to the Way Out Club. It was great to meet you and Lesley and thank you for sharing your story… And for asking about ours! I know we turned up really early and left even before Tina Turner's performance, but we did have a good time. We could tell that things were just getting started when we left, but it's been a while since we last went clubbing and we'd forgotten the form! Next time we'll get a taxi so I can have a drink and get us out on the dance floor! The Way Out Club is a great place and certainly has it's fair share of characters. Chrissie took the time to have a chat to us too – what a girl! Fabulous. Many thanks and hope to see you soon! Best wishes S & S xx
Vicky, Just writing to say how much Jane and I enjoyed our first ever visit to the WayOut Club. Having taken Jane to 'Stunners', (an alternative venue more suited to swingers),  a couple of weeks ago, where she was the only genetic girl and we were the only two people there not looking for a shag, I was lucky she ever agreed to visit a tranny club again. But she did – and we both had a fantastic time and will be back again whenever we're next in London on a Saturday. Cheers, Suzy and Jane x
Hi Vicky, I visited the club as a special 40th birthday treat with my wife all the way from Scotland, it was an absolutely fantastic weekend with it also being the first time out dressed for me. We spent some time talking with your good self in the quiet area away from the dancefloor. I had auburn shoulder length hair and a small necklace wrapped twice around my neck, smokey eyes courtesy of Jodie Lynn and a very large smile, which I still get when I think of my trip. We will be back at the club soon. x Love J and I x.
Hi Vicky, I just wanted to thank you for a FABULOUS night on Saturday. We are still on cloud nine.  Nikki and I met in 1993 at the club in Cavendish Square (he was just 23)  and we have been together ever since and have spoken every day since the day we met. For his 30th we held a 20's / 30's costume party at home and he was in drag and was so convincing quite a few people did not  realise she was he ! We have such a straight lifestyle in our farmhouse in Suffolk – you were right AGA, 2 dogs, horse next door, 4WD! – where we have lived for 12 years. Suffolk is lovely but a long way out. I was in London 3 weeks ago to be presented to HM the Queen! and Nikki came up to London to do the galleries etc. It was only last August that my cousin's husband told us he was also a TV and a regular at WayOut. We arranged house sitters and we all went girlie shopping. Anyway it was SUPERB  and we will come again. Please both do keep in touch and thank you so much for making a difference. ps I used to go the the Roof Gardens on a Sunday night when I lived in Epping Forest and I even turned down a very famous gay guy there who is lovely but not my type – oh well! We support Crusaid, why don't you arrange a benefit with them – they have some very well connected patrons and perhaps could arrange something ultra special where the girls could show off their talents. lots of love, Johnnie and Nikki xx
Dear Vicky, Just wanted to write to let you know…. Came to your club on sat night with my girl freind Sim and had the most fantastic time! Finally plucked up the courage to step through the door and to be honest was a bit worried about being dressed in jacket and jeans and thought we would get some strange looks. I can honestly say that i have never been made to feel so welcome anywhere before. Spent all night dancing and chatting to mel. It was fab. Thank you so much for setting up a wonderful club with such freindly and gorgeous visitors. Unfortunatley i live in manchester otherwise i would be there every saturday! Would be very grateful if you would let me know of any events on and i will do my best to be there. Hope you are very well. Matt
Hi Vicky, I am very pleased that I met you yesterday. We shook hands. I came with Jodie's group. I had a black bob and wore a black skirt suit. Since a very long time, I know you and your website. Unfortunately, it was only three years ago when I visited the Boudoir for my first going out (it was the Repartee Party).  Sometimes, I am very sad that I didn't start earlier (when I was young and beautiful 🙂 Yesterday, I visited the Wayout for the first time. You and the club are so phantastic! Thanks and best wishes from my heart. Jessica
hi there, this is Tia from chicago who visited your club last week, i had a wonderful and one fabulous nite at your club and definitely coming back with friends. Its my honor and priveledged to meet you and glad to know that you are all so polite and friendly…..very warm…..thanks!!! Tia C
I visited the Wayout Club on January 20 2007. Had a blast. The people were very friendly even though i told everyone I was straight. I was their with my girl freind Carmen. Would definelty comeback if I ever make it back to the UK. Gianna Versaci USA
Dear Vicky Lee, Visited on August 19th for the first time with Nicola and Geoff, Nikki and Debbie, Connie and Tom,Louise and John, Chloe and Netty, plus Fiona (hope i've got everyone's names right).Thankyou for making me most welcome as this was also my first time out dressed Had a lovely time with lovely people. Hope to see you again soon Candy Kisses Nina Candy Bracknell, Berkshire
Hi there, I'd just like to say a big thank you for the Way Out, and having been attending for years, although its been nearly 7 years since I was last there, I'm very pleased that it's still going and has been a major highlight of my life, especially as I've been 3 times in the past month. Please pass on my heart felt congrats to the girls for such a lovely Halloween Cabaret, I loved it too bits. Again a Massive Thank You! Sarah xXx
Really enjoyed my first Way Out night, thanks Vicky. I am looking forward to visiting again and would recommend it to anyone for a top night out. xx Linda Ray